Product Description
A fairway wood that provides high initial velocity with only a gentle strike.
A sole that provides a higher trajectory and smooth swing.
With a W crown structure *1, a bridge weight specifically designed for RED clubs *2 and a thin-walled face, the new RED fairway wood provides a higher initial velocity and longer distances with an excellent driving force. The sole allows for an improved swing, meaning that the ball can be easily hit from any lie.
The shaft is rigid at the grip and flexible from the center to the head, providing greater acceleration.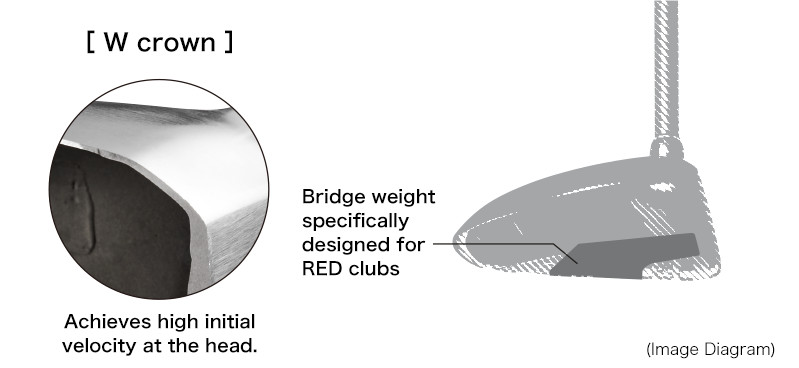 A roof-like face with a bridge weight specifically designed for RED clubs.
Low center of gravity and greater resilience.

A wide straight face for an easy address. Further, the ball can be hit with confidence even if the lie is rough or bad. The center of gravity is kept low to provide a higher carry trajectory.
*1 Crown Structure Patent pending
*2 Weight Structure Patent pending
DESIGN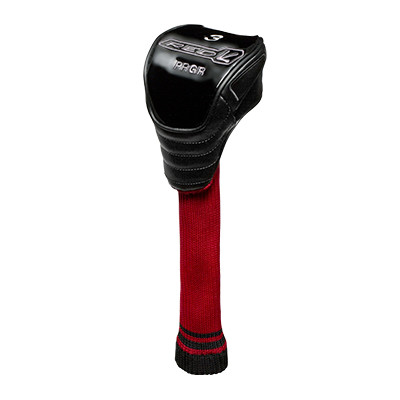 SPEC
Club #
3W
5W
7W
Loft angle(°)
16.0
19.0
22.0
Volume(cm3)
194
176
164
Face angle(°)
-1.0
-2.5
-2.5
Lie angle(°)
59.5
60.0
60.5
Length(inch)
M-40 (SR)
43.0
42.0
41.5
M-37 (R)
43.0
42.0
41.5
M-35 (R2)
42.5
41.5
41.0
Total weight(g)
M-40 (SR)
292
300
303
M-37 (R)
291
298
302
M-35 (R2)
288
294
298
Balance
M-40 (SR)
D-0
M-37 (R)
D-0
M-35 (R2)
C-7.5
Shaft weight(g)
M-40 (SR)
46.0
45.0
44.0
M-37 (R)
45.0
43.0
42.0
M-35 (R2)
43.0
41.0
40.0
Shaft torque(°)
M-40 (SR)
6.2
M-37 (R)
6.3
M-35 (R2)
6.2
Shaft KP
H
Grip
Weight:36.0, Diameter:60, Code:None, Back line:Yes
Material
Face:Titanium(LD433P)
Body:Titanium(Ti-6Al-4V)
Weight:Tungsten alloy(Ni,W,Fe)
Manufacturing process
Face:Forged
Body:Vacuum precision casting
Weight:Powder metallurgy
<Made in JAPAN><Made in CHINA>
*With original head cover (Made in China)
* Made-to-order model … custom shaft model
Specs may be changed without prior notice.
Data indicated are those of values for club design. Club design values and actual values may differ slightly.
Due to PC environment, some catalog product colors may differ slightly from the actual colors. Please check the actual product at a store.